Agrion's features
We will introduce the functions of Agrion. Agrion is available as a smartphone app and a web app.
Places
Register places to record working hours such as fields and workshops.
Works
Register the work to be performed. Do not forget indirect labor such as preparation and commute.
Crops
Register the crops to be cultivatated. The fields are displayed in different colors according to the set colors.
Materials
Register pesticides, fertilizer, seeds and other consumable materials.
Machines
Register a machine, to record the machine running time.
smartphone app
Insert the time on your smartphone at the beginning and end of work.
Harvest volume, shipment quantity, pesticide usage etc. also can be recorded.
Records of work
---
Visualize with graphs
---
Various references
---
Output the report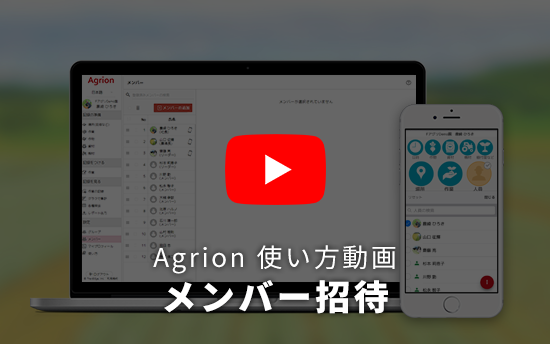 Agrion manages information on a "group" basis.
Only members belonging to the group can see the registered data.
Members can be added via "invitation".
Recommended operating environment
smartphone app
iOS:Compatible with iOS9 or later
Android : Android OS 4.4 or later
Internet connection required
web app
Recommended browser:Google Chrome
Internet connection required